Once again busy times at NewSpec with our first Spectra-Physics Spirit HE and NKT SuperK MIR sales, along with an ever increasing number of installs and systems to look after. Our sales, engineering, and administration teams continue to expand with more hours, and yet we still seem to be as busy as ever.


The installation at UQ of Hitachi's 200kV, aberration corrected HF5000 is coming along nicely. The new Hawken labs are fantastic, and we are all looking forward to the inauguration of the machine in September. It is great to be in amongst such a significant project and making it all happen.



In Term 2 of the 2018 school year NewSpec launched our SEM Outreach program. We have taken the TM4000 SEM microscope to six primary schools, three high schools and one Kindy (guess which was the most fun!!) in Adelaide, and the feedback thus far has been absolutely fantastic.
The ideas for our program stems from the US where there are six or seven desktop SEM's are permanently moving around between schools. We have followed a similar model in Australia with a service that takes the program to "the next level" with curriculum based programs, professional development training days for teachers. We are also working to build strong follow-up programs for those students that really get excited about magnification/microscopy. We have a qualified teacher (Jess) on staff to develop programs and we intend to offer a truly outstanding and sustainable service.
Term 3 takes us to seven high schools, Science Alive at Wayville Showgrounds in Adelaide, and two systems up to the Outreach program as part of IMC19.
Term 4 we will sleep, oh, and launch the program in to Brisbane, thanks in no small part to the enthusiasm, support and collaboration from Prof Roger Wepf and the team at CMM@UQ.
We have a view to going more national over time if we can find the right support and partners in different cities.
If you are based in Adelaide or Brisbane and know of a school that may be interested to be involved in the program, please pass on our details, or request some further details from us that we would be happy to send you.
Similarly, any other queries, questions or comments can be directed to outreach@newspec.com.au, or can be found at inspirestemeducation.com.au.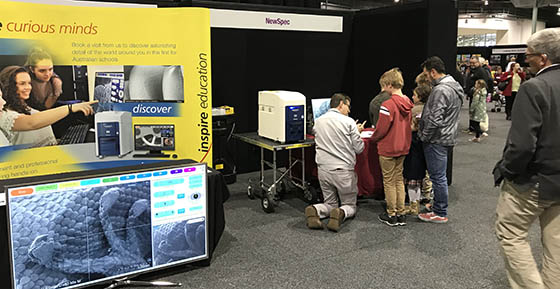 Andrew demonstrating the TM4000 for kids at Science Alive! at the Wayville Showgrounds
Spectra-Physics

Spirit HE




High power, high pulse energy industrial femtosecond lasers
The Spirit® HE industrial femtosecond laser product line delivers high energy, and high average power for applications requiring reliable and robust 24/7 operation. With direct diode pumped technology developed by Spectra-Physics, Spirit's innovative and simple architecture offers truly unique performance.
NKT

SuperK MIR




Mid-IR Supercontinuum Laser
Based on NKT Photonics proven supercontinuum platform, the SuperK MIR supercontinuum laser offers the same benefits as our visible and near-infrared sources with an output in the mid-infrared.

The SuperK MIR delivers more than 450 mW of continuous light from 1.1 to 4.2 µm. The source features a monolithic all-fiber architecture ensuring stability and maintenance-free operation over thousands of hours. The mid-infrared light is fiber delivered through a broadband collimator, offering great flexibility and easy use.
Newport

Opto-Mechanics




Outstanding Selection - Superior Performance
For more than 30 years, Newport has manufactured the world's most comprehensive line of optical mounts and mechanics. Their precision opto-mechanics help researches and companies stay at the leading edge.
TM4000 SERIES

Tabletop Scanning Electron Microscopes


AVAILABLE FOR DEMO

This brand new generation of the long-standing Hitachi tabletop microscopes (TM) integrates ease of use, optimised imaging, and high-image quality, while maintaining the compact and robust design of the leading Hitachi TM Series products. Features include:
| | |
| --- | --- |
| • | Easy to use interface for fast acquisition of high quality data |
| • | Detectors for characterisation of coated and non-coated samples |
| • | Environmentally friendly and efficient vacuum system allows sample insertion to data acquisition and report generation to occur in just minutes |
| • | Highly configurable platform for different accessories and applications |
| • | Software integrated sample navigation camera (optional) |
Newport

XPS-D




Universal High-Performance Motion Controller and Driver
Replacing the XPS-Q, the next generation 8 axis, high-performance XPS-D motion controller, now with a universal digital driver is capable of controlling a variety of motor types.
Based on the TCP/IP Internet communication protocol, the XPS controller can utilize up to 80 virtual communication ports, known as sockets. Users can split their application into segments that run independently on different threads or even on different computers.
Princeton Instruments


SOPHIA-XO




X-Ray Cameras for Soft X-Ray, VUV, and EUV Applications
Princeton Instruments' high-sensitivity, high-speed, thermoelectrically cooled SOPHIA-XO cameras utilize back-illuminated CCDs for direct detection of the widest range of VUV and x-rays ( ~5 eV to 30 keV). A rotatable, industry-standard CF flange with a high-vacuum seal design, as well as software-selectable gains and readout speeds, makes this camera well suited for UHV applications.
RECENT

SYSTEM INSTALLATIONS
Hitachi HF5000
UQ, Brisbane