Hitachi TableTop SEM News -

September 2018
The Hitachi TM4000Plus Tabletop SEM continues to make its way to various events around the country with events in Melbourne, Brisbane, Perth, and Sydney. See below for the rundown on the events where we have been showcasing this technology and of course contact us if you're interested in seeing this fantastic instrument in person!
Next stop will be the International Microscopy Congress in Sydney, where NewSpec and Hitachi will exhibit several SEM and TEM instruments from the current line-up! Please make a booking if you would like to see a system or discuss your characterization goals with a specialist!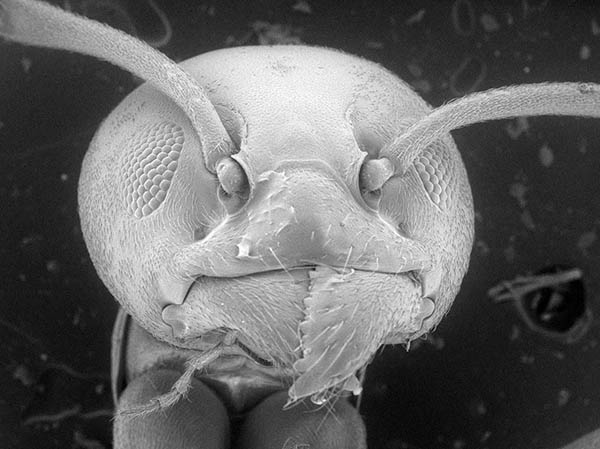 Image credit: Dr. Shawn Handran
Accessories available for Hitachi Tabletops

– New STEM detector!
The Hitachi Tabletop SEM line-up remains well supported with field upgradable accessories to aid research and characterization across multiple fields and applications. The latest release for the TM series is a low-cost scanning transmission electron microscopy (STEM) capability that can be installed when required. The STEM detector has a single, TEM grid holder, and collects electrons transmitted through ultra-thin specimens to provide combined Bright Field and Dark Field images with high contrast. The accessory is fully integrated into the Hitachi GUI with Auto Focus, Brightness/Contrast available and automatic switchover to STEM mode when mounted.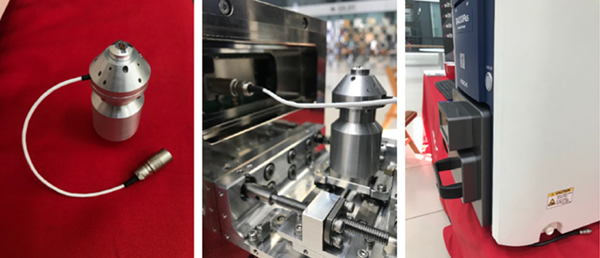 Other field upgradeable accessories include Energy Dispersive X-Ray (EDX) analysis, Tilt/Rotate stage with video chamberscope, Hot/Cold temperature control stage, Mechanical stage for in situ tensile, compression, or bending, testing, and X/Y stage motorization for manual TMs.
TM4000Plus

Workshops 2018
The TM4000Plus has visited a number of institutions around the country with stops in Melbourne, Brisbane, Perth and Sydney for workshops and demonstrations. A gallery of some of the images are shown below. Thank you to everyone who has contributed interesting samples to benchmark on the TM4000Plus system.
| | | |
| --- | --- | --- |
| Image 1 | | Image 2 |
Image 1: BSE image of laser ablation pits in silver coin recovered from the shipwreck of the Vergulde Draeck cross-section after Pb isotope measurements. The coins were embedded in resin then ground and polished perpendicular to their surface in order to investigate their polished cross-sections by LA-ICPMS and SEM-EDX. The final polishing step was performed by Argon ion milling.
Image 2: Mixed (SE and BSE channels) image of ciliated cells in rat trachea epithelium. Sample was fixed in 2.5% glutaraldehyde, dehydrated with a series of increasing ethanol concentrations before critical point drying and finally coating with gold before imaging.
Teaching and

Outreach
Staff at UQ CMM made use of our TM4000Plus for 3rd year Marine Biology and Fungal practical sessions. With only basic sample preparation (or no sample preparation at all) the students were able obtain excellent results. More importantly, the students were able to operate the instrument themselves. The intuitive and portable design of the TM4000Plus lends itself to speedy installation and easy characterization which, in turn, enables hands on education of a technique that would normally be out of reach for undergraduate courses. Instances such as this are not isolated, with existing TM customers reporting that they already apply their Hitachi benchtop to teaching, and new TM4000 customers currently developing their SEM coursework for 2019.
Continuing the education theme, the NewSpec Outreach program has launched in SA and QLD and the feedback thus far has been absolutely fantastic! In term 2 of the 2018 school year, we brought a TM4000 SEM to six primary schools, three high schools and one Kindy. The term 3 calendar includes seven high schools, Science Alive at Wayville Showgrounds in Adelaide and two systems for the Outreach program as part of IMC19.
NewSpec at

GeoAnalysis 2018
NewSpec's Martin Cole and Luke Basso attended the 10th triennial scientific meeting of The International Association of Geoanalysts (IAG) at Macquarie University in July. Afterwards, NewSpec provided an introductory seminar on Scanning Electron Microscopy (SEM) and a series of demonstrations of the latest model TM4000Plus benchtop system at Macquarie GeoAnalytical (MQGA).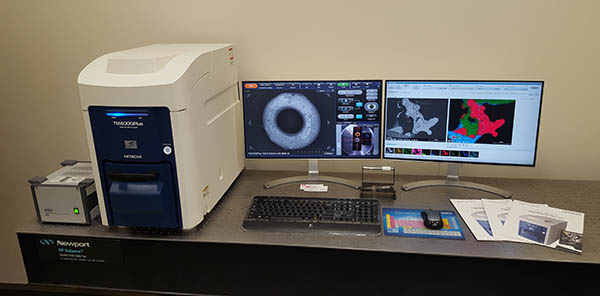 Application Focus -


Mixed compositional and topographical imaging of mineral specimen
A demonstration of the Hitachi TM4000Plus at the Centre for Microscopy, Characterisation and Analysis (CMCA) at the University of Western Australia (UWA) provided an excellent opportunity to investigate some mineral samples. One un-processed specimen, sourced from an iron ore mine in the Pilbara region of Western Australia, was provided by PhD student Jason Bennett. The material was of interest due to the 1-2 cm long crystals of pyrolusite (MnO2) but the sample included unknown microscopic crystals on the surface and we tasked the TM4000Plus SEM-EDX to find out more.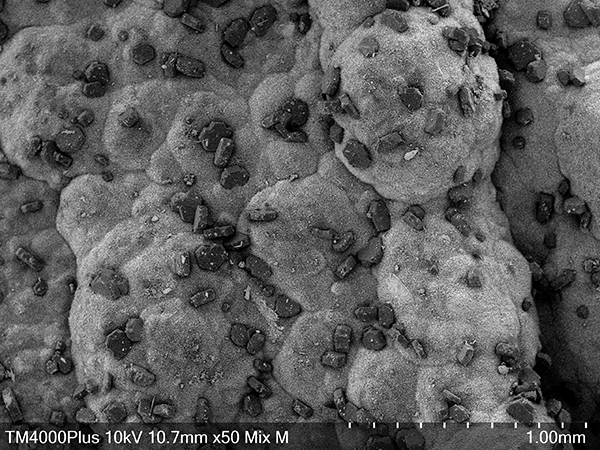 Image 1
| | | |
| --- | --- | --- |
| Image 2 | | Image 3 |
TM4000Plus MIX mode imaging, where both the BSE and SE channels combined into one live image, was ideal for this specimen as both the topography and composition could be shown in one image (Image 1). Individual BSE and SE channels, collected in parallel, are also shown (Images 2 and 3).
Analysis with the fitted EDX accessory confirmed the pyrolusite and indicated the dark pseudo-hexagonal crystals to be Gibbsite (Al(OH)3).
NewSpec thank Jason Bennet for his sample and characterization contribution.
© NewSpec Pty Ltd, all rights reserved 2018