Hitachi TableTop SEM News -

May 2018
In this issue you can see a wrap up of some of our Hitachi SEM events as well as hear about the primary application of the Hitachi Tabletop SEM at the Australian National Insect Collection in Canberra. Doing some cool stuff on your Hitachi SEM? Let us know!
Hitachi

TM4000Plus




The Hitachi TM4000 series tabletop SEM is in Australia!
We are really excited to have the new TM4000Plus model in Australia and out on the road. The TM4000Plus has already featured at events in SA, NSW, VIC, QLD and we are booking further workshops and events in 2018 for our demo system. If you're interested in seeing the most popular and versatile benchtop SEM on the market at an event or demonstration near you, please contact NewSpec for more information.


2017 Make & Measure

Showcase
Hitachi and NewSpec sponsored the 2017 Make & Measure Showcase held at the Sydney NanoScience Hub, University of Sydney. NewSpec staff, Martin Cole and Michael Ventura attended the Showcase with the brand new Hitachi tabletop SEM model TM4000Plus on the booth. The two day program was jointly run by Australian National Fabrication Facility (ANFF) and the Australian Microscopy and Microanalysis Research Facility (AMMRF), to celebrate 10 years of NCRIS.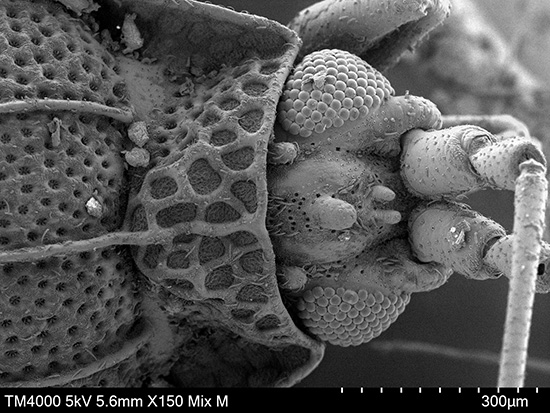 TM3030Plus at Australian National Insect Collection
The Australian National Insect Collection in Canberra houses over 12 million insect specimens, most of which are Australian in origin. These specimens provide a library of information for taxonomic research and are an irreplaceable diagnostic reference tool for numerous applications including biosecurity.
We purchased the TM3030Plus Tabletop Microscope for imaging microscopic diagnostic characteristics in insects. Many of the specimens that we image are "type specimens" (the specimen upon which the name of the species was formally described) and thus are both valuable and irreplaceable. These specimens cannot be altered, damaged or destroyed as they are reference points for future comparisons and descriptions.
Previous SEM imaging technology required specimens to be altered (gold coated) thus excluding the technique for many of the specimens in our collection. The Hitachi Tabletop SEM has two low vacuum detectors that enable images to be collected from uncoated samples. It is for this reason that the TM3030Plus was so attractive – it enables us to obtain high magnification information while specimens remain intact and undamaged.
Debbie Jennings
CSIRO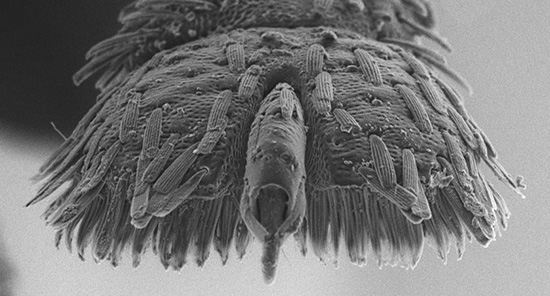 Single claw of weevil (Haplonyx spencei) taken on the TM3030Plus
FlexSEM 1000 at

Hitachi Innovation Forum
NewSpec and Bruker staff exhibited the Hitachi FlexSEM 1000 with Bruker AMICS software for the Hitachi Social Innovation Forum at the Hilton Hotel in Brisbane in late November. Demonstrations of the Bruker Advanced Mineral Identification and Characterization System (AMICS) were conducted for interested visitors to the display. The AMICS platform, developed in Australia in collaboration with Hitachi, represents the most advanced automated mineral liberation analysis system available. The Innovation Forum was attended by government representatives from Japan, industry leaders from around Australia and New Zealand along with around 200 guests from various institutions.
| | |
| --- | --- |
| Hitachi FlexSEM 1000 | Bruker AMICS Software |
TM4000Plus at

Concepts in Parasitology Workshop
The TM4000Plus was demonstrated at Concepts in Parasitology (26th Nov – 9th Dec 2017) at the ANU Kioloa campus.


A variety of biological specimens were collected and isolated during practical sessions and Martin Cole was on hand to assist participants with the TM4000Plus SEM for the purpose of parasite taxonomy.






Female Tick

Leech

Isopod

Nymph Tick
© NewSpec Pty Ltd, all rights reserved 2018