2018 has started off with a bit of a bang at NewSpec with new staff joining our team, and new systems being installed.
February saw the installation of our first HT7800 TEM & SU5000 FE-SEM from Hitachi at James Cook University and a Matisse C tuneable CW laser from SPL. In March we will kick on to the first (few) InSight X3 systems in Melbourne as well as our first TM4000 desktop SEM at UNSW in Sydney.
On the expansion front, in January Luke Basso agreed to join the company. Luke has recently completed an undergraduate degree in Forensic Science at Western Sydney University, where he conducted a research project on gunshot residue. Luke spent 2 years assisting at the Advanced Materials Characterisation Facility located at Western Sydney's University. Here, he gained exposure and skills with a range of scientific instruments and preparation of various sample materials.
Luke will be strengthening our service team, and we are delighted to have a permanent staff member in Sydney (at last!), He will be travelling with the NewSpec Engineering team extensively over the next 12 months as he trains up on our installed instruments.
Say hi to Luke!
At the slightly more experienced end of the spectrum, we are delighted to be joined by Brett Delahunty as of today!
We are sure many of you will remember Brett well, as we do, from his 19 years at Warsash where we met him often on the conference roadshow. Brett was always one of those guys that we enjoyed catching up with, so when he called us a few weeks ago, and we were done with asking "Where did you go?", the immediate conversation at NewSpec was "how do we get him on board?". Obviously we figured it out!
Once we have given him about 5 minutes of training, Brett will be straight into it.
Initially Brett will be helping with Vibration Control, Laser Safety and Power Meter enquiries. Reconnect with Brett!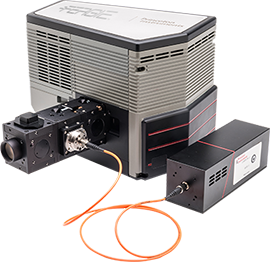 AVAILABLE FOR DEMO

Princeton Instruments

FERGIE




Aberration-free spectrograph with low-noise detector
Princeton Instrument's new FERGIE compact, imaging spectrograph offers low-noise aberration-free imaging performance over a wide wavelength range with an integrated cooled CCD camera – all with a footprint smaller than an A4 text book! A wide range of complex experiments for a wide range of applications can be assembled on top of a small desk using unique light-coupling CUBES, laser sources, fibreoptics, and powerful software. For example, a typical Raman experiment that used to take hours to set up now can be completed in less than 90 seconds!
| | |
| --- | --- |
| • | Aberration free, low noise imaging spectrograph |
| • | Compact foot print |
| • | Easy setup and data collection using unique "Cube" accessory system |
| • | Integrated cooled CCD camera |
| • | Free Space and Fibre Input Adapters |
Spectra-Physics

Matisse C




Fully automated, hands free tunable CW ring laser
The Spectra-Physics Matisse C is a fully automated and compact single frequency ultra-stable, tunable ring laser. The Matisse C system has the industry's highest output power, the narrowest external linewidth, and the broadest mode-hop-free tuning range. The compact, sealed, and fully automated design with broadband mirrors and specially developed optical mounts provide long term stability and truly hands free operation.

Coupled with the Millennia eV pump laser, the Matisse C produces up to 6.5 W of output power. The Matisse C provides up to 300 nm of tuning with one optics set and linewidths down to 30 kHz.
TM4000 SERIES

Tabletop Scanning Electron Microscopes


AVAILABLE FOR DEMO

This brand new generation of the long-standing Hitachi tabletop microscopes (TM) integrates ease of use, optimised imaging, and high-image quality, while maintaining the compact and robust design of the leading Hitachi TM Series products. Features include:
| | |
| --- | --- |
| • | Easy to use interface for fast acquisition of high quality data |
| • | Detectors for characterisation of coated and non-coated samples |
| • | Environmentally friendly and efficient vacuum system allows sample insertion to data acquisition and report generation to occur in just minutes |
| • | Highly configurable platform for different accessories and applications |
| • | Software integrated sample navigation camera (optional) |
NKT Photonics

Aeropulse FS




High Power Femtosecond Lasers
This family of rugged and compact OEM lasers use state-of-the-art mode-locking technology to deliver ultra-short femtosecond pulses with outstanding long-term stability, superior pulse-to-pulse stability, low noise, and excellent TEM00 mode quality. As standard, aeroPULSE FS is available with output powers up to 20 W emitting at 1030 nm. Other wavelengths, including green, are available upon request.
Princeton Instruments

SpectraPro-HRS




Versatile, High Resolution Imaging Spectrographs & Monochromators
The New SpectraPro HRS imaging spectrographs are packed with the latest technology and are capable of facilitating just about any spectroscopy application imaginable.

SpectraPro-HRS benefits include:
| | |
| --- | --- |
| • | Exclusive AccuDrive™ grating drive system yields up to 3X improvement in wavelength accuracy |
| • | ResXtreme™ spectral deconvolution improves spectral resolution and SNR up to 60% |
| • | Most precise wavelength and intensity calibration with IntelliCal system |
| • | High spectral resolution PLUS reduced astigmatism |
| • | Multiple exit ports provide unrivaled versatility for multi-detector operation |
| • | Fully supported by 64-bit LightField software |
Newport

DL-KITS




Optical Delay Line kits and stages
Newport has released a new range of optical delay line kits that include pre-selected optics and opto-mechanical components to build delay lines of single, dual or quadruple pass. Combine with the new high performance DL series linear stages for exceptional positioning and repeatability performance.


Spectra-Physics

Spirit 1030-100




Setting a new standard for high-precision femtosecond machining
Spectra-Physics introduce the latest addition to the Spirit lineup, the Spirit 1030-100, an industrial femtosecond hybrid fibre laser that delivers greater than 100 W infrared power and more than 100 μJ pulse energy with ultrashort pulses under 400 fs for fast, highest quality micromachining.

The new laser offers high flexibility with optional integrated second harmonic generation (SHG) for more than 50 W green output, burst mode, and triggered pulse output.

With proven 24/7 industrial reliability, the Spirit 1030-100 is ideal for high throughput micromachining for consumer electronics, clean energy, automotive, medical devices, and other industrial applications.
RECENT

SYSTEM INSTALLATIONS
| | |
| --- | --- |
| | |
© NewSpec Pty Ltd, all rights reserved 2018