Spectra-Physics has long been the home of the most technically advanced commercial Ti:Sapphire regenerative Amplifier family. However, not being satisfied with that, Spectra-Physics has continued to advance their ultrafast amplifier product range through some truly exciting new product development and acquisitions detailed below.
SPL

ACQUIRES FEMTOLASERS




CUTTING-EDGE ULTRASHORT PULSE TECHNOLOGY
FEMTOLASERS joins the Spectra-Physics Lasers Group and adds cutting-edge ultrashort pulse technology to Spectra-Physics' industry-leading portfolio of ultrafast lasers. FEMTOLASERS is widely recognised for developing the world's highest precision short pulse ultrafast lasers, including the most advanced and stable carrier-envelope-phase stabilisation technology as well as ultrafast lasers with pulse widths in the few femtoseconds and the highest contrast ratios. FEMTOLASERS products and technologies enable some of the most advanced research applications, including the pioneering of attosecond science to study physical, chemical and biological phenomena at the atomic and subatomic levels.
AMPS:

HIGHEST POWER




LEADERS IN ULTRAFAST
The NEW Spitfire Ace ultrafast regen amplifiers deliver an industry-leading > 8 W output power at 5 kHz and > 7 W at 1 and 10 kHz repetition rates with < 35 fs and < 120 fs configurations. The new Spitfire Ace PA amplifiers output up to > 16 W. With Spectra-Physics' patented Ace cavity, the new ultrafast amplifiers provide superior beam quality even at the highest energy configurations.
ASCEND

PUMP LASER




HIGH POWER kHz GREEN PUMP LASERS
The NEW Ascend™ series of pump lasers utilise a proprietary architecture which produces less heat and an improved cooling scheme to provide maximum stability. When pumping a Spectra-Physics amplifier, Ascend delivers optimal green-to-IR conversion due to the excellent beam quality. The end result is maximum efficiency, low noise, and unmatched reliability, making Ascend the highest performing amplifier pump laser available.
Some example Spectra-Physics Amplifier installation sites in Australia and New Zealand.
The University of Melbourne
The Cold Atom Electron Ion Sources (CAEIS) group uses a Spitfire amplifier to help explore the generation of ultrabright coherent electron and ion bunches from laser-cooled atoms.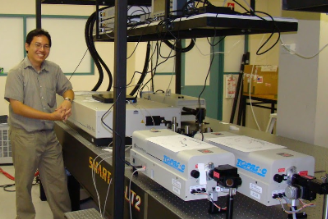 The University of Adelaide
The Laboratory for Chemical Spectroscopy and Microscopy use steady state and time-resolved spectroscopic techniques to investigate the molecular processes in two significant systems.
NewSpec Pty Ltd, all rights reserved 2015 ©